INTRODUCTION
CURRENT LOCATION:HOME > INTRODUCTION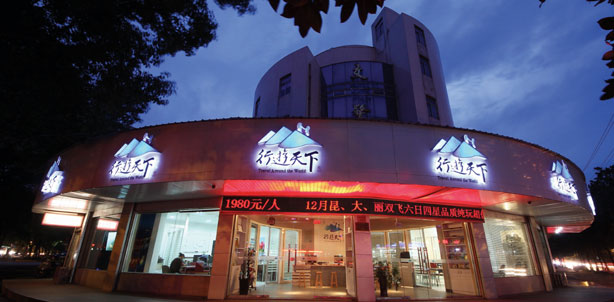 Jiaxing Visiting World Travel Service Ltd. was founded on 18 October, 2008, with the license number of L-ZJ01128 and ranked the Top Ten Travel Service Company of Jiaxing in 2010. We have an advantageous geographical position with the location at the intersection of Tangong Road and Huanbei Road at downtown area of Jiashan County. We have a seven-bay shop front with 187 square meters of business area and quiet and elegant office environment. Our business covers domestic group tours, inbound tours, car rental & hotel reservation, air ticket reservation, train ticket sale, tour guide service and tourism product sales etc. We have 17 employees with an average age of 28, which forms a spirited, energetic, professional and creative team. All the employees have a tour guide certificate, some of which have top or middle-grade certificate. Over 50 percent of our tour guides has five-year experience at least.

With the name of Jiashan Visiting World Travel Service Ltd. on the establishing day, we ranked the first in Jiashan area in term of group business volume in 2009. At the same year, we applied for and set up a train ticket sale point for Shanghai Railway Bureau and connected to Shanghai South Station and Shanghai Station to sell common train ticket, bullet train ticket, high speed train ticket, student train ticket, group train ticket, and round trip ticket. We also cooperated with the post office to establish a "train ticket distribution center" to deliver the ticket to every household conveniently. This is good news for the local citizen who plans to have a journey or do business as well as the adventitious population who will have around trip in Spring Festival.

In 2010, the Tourism Year of the Expo in China, we undertook the activity of visiting the Expo for thousands of middle and elementary school students in Jiashan, and organized over 19,000 students to visit the Expo. The whole activity was in good order and was completed successfully, which was highly appraised by relevant departments of Jiashan County. During the Expo, we delivered nearly 50,000 tourists to the Expo, which ranked the top of all the travel service companies in Jiaxing area. In December, 2010, we renamed our company as "Jiaxing Visiting World Travel Service Ltd." and set up Jiahe Branch at International Silk Trade Center, Youyi Street, Jiaxing to expand our inbound tours business with the hope of making more contributions to the tourism development of Jiaxing.

With special attention on corporate culture, we edit the visiting world travel newspaper regularly to report the latest company news, industrial information, the ethnic customs of different areas, common knowledge on tourism and so on to the tourists, which is learned and followed by most of the professions. Our website (www.xy-tx.com) is professional and updated every day, which is worth reading, and the click rate also ranks the top of the professions.

Our philosophy is "tourists first". We tell the truth to the tourists, just like a friend. We consider what the tourists consider, and worry what the tourists worry. We require the employees not to complain or become indifferent and take it for the highest to seek the career development. We believe, just like a sailing boat, our company will meet all kinds of difficulties and uncertainties though, but we will overcome them finally and travel around the world.